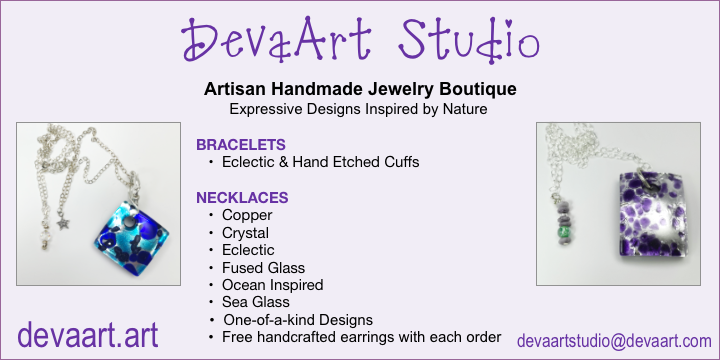 DevaArt Studio artisan boutique offers distinctive handmade necklaces and bracelets which have been created by jewelry artist, Dee Van Houten.There is no nickel in any of the handmade jewelry. The most recent artisan collections are called, Eclectic Bracelets and Etched Cuff Bracelets. All jewelry is one-of-a-kind and never duplicated. Unlike mass-produced jewelry, her's is not supposed to look 'perfect'. Dee creates in an organic and free-form style. Each piece has a distinct and expressive character which may resonate with you.
Attention To Detail
Dee's handcrafted jewelry pieces are designed and created with the utmost attention and care. In addition, quality materials are used in all designs.
Handmade necklaces and bracelets: expressive, meaningful designs inspired by nature.
One-of-a-kind designs (no two are ever alike).
Free handcrafted earrings come with each order (limited stock).
Special, meaningful names are given to each piece of jewelry created.
Some necklaces may be designed with copper components, Swarovski crystals and/or vintage beads.
Sterling silver components, raw crystals, Swarovski crystals, genuine sea glass, dichroic, lampwork, Murano glass, vintage beads, gemstones and/or raw copper are used in the designs.
Eclectic Bracelets
The aesthetically designed eclectic bracelets are distinctive and diverse. They are made up of combining elements from a variety of metals. Mixed metals used in the pieces are sterling silver, oxidized sterling silver, antique silver, antique pewter, stainless steel and/or raw copper.
Other components that may be used in the design of eclectic bracelets are mixed metals, such as, Swarovski crystals, raw crystals, fresh water pearls, oxidized sterling silver, antique pewter, antique silver, vintage beads and/or .925 sterling silver beads and/or charms. Gemstones incorporated into the eclectic bracelet designs may include amethyst, emerald, lapis, moonstone, ruby, sapphire, turquoise, peridot and others.
Etched Cuff Bracelets
The cuff bracelets are mixed with unique elements from a variety of metals. These aluminum open-cuff bracelets are all hand-etched and hammered to give them textural effects. Fine silver (.925 sterling silver) components may be added to the cuff. These unique cuff bracelets are very light-weight and durable. All cuff bracelets are hand-etched in a free-form style with lines, images and abstract shapes. Other components added may be crystals, sterling silver wire/beads and charms, repurposed jewelry, vintage beads and/or other findings.
Contact
Online Art Gallery-Store: devaart.com
DevaArt Studio Artisan Jewelry Boutique (Art & Jewelry Store-Blog)
Artisan Jewelry Information
Email: devaartstudio@devaart.com